Episode Details
Release Date
February 17, 2017
Runtime
48 minutes
Previous Episode
Episode 247
Intro Music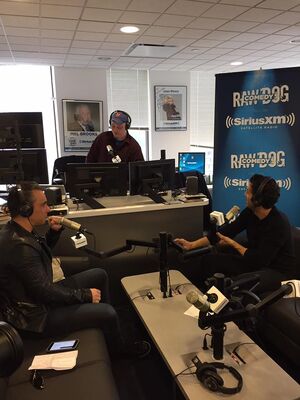 The show makes its premiere on SiriusXM!
Topics discussed
Quotes from the episode
I'm distracted by your teeth, bro!
I'm getting tired of grown men with a Jansport backpack over an overcoat.
The last time I had a backpack I was putting a sack lunch in it.
I didn't even have a backpack as a kid…I had a briefcase. Black. With a combo.
There's a B rating in the window. Do you go in? I don't check the ratings.
Dude! I caught a couple of garden snakes in my backyard. Let's fry em up and have garden snack sandwiches.
So they're out and montauk, catch a cupel fish and say hey tommy what do yo say we drive 4 hr s to manhattan and grill this shit up?!
We're not having a baby shower…we're having a baby bash.
What do you think about me getting a security guard?
Possible tow job, and my boss thinks I'm getting dental work right now. My whole life is a lie.
I'm so glad I'm here with you guys, it's saving me so much editing time.
I wouldn't even see that with the real guy.
By the way, I'm not in it. Would it kill you to throw a still in there?
I want to do a dry run, no baby, just to see how the stroller is gonna work.