Episode Details
Release Date
Runtime
1 hour, 4 minutes
Previous Episode
Episode 226
Intro Music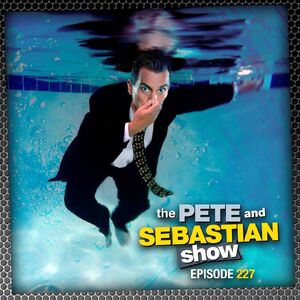 Pete adjusts to city life again and they talk about Pokemon, Sebastian's mom's crush, and hot guys in this hilarious episode!
Topics discussed
Quotes from the episode
Jackie: What? Do you think you're a writer? Are you from Brooklyn, guy?
Sebastian: You don't pull any punches when you guys duke it out verbally. Pete: It's just words, man!
Sebastian: The only time I've seen a lifeguard get off the lifeguard stand was go to home.
Pete: This is the only place I feel at home!
Pete: Total showoff move, man.
Sebastian: Here I go! Like a kid.
JJ Watt: You would have thought Frank Sinatra walked in.
Pete: We live in such a terrible time!
Sebastian: We used to do these things back in the day. Remember? Little games?
Sebastian: Look at this shit!
Pete: I'm too good looking to go out in public with out my ring on. Sebastian: Oh wait, wait…
Pete: My father would literally call me Vice Head at the dinner table.