Episode Details
Release Date
Runtime
1 hour, 12 minutes
Previous Episode
Episode 218
Intro Music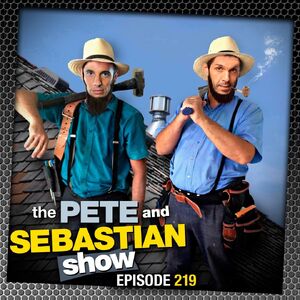 The guys play a new round of "Man-erios" and Pete has stories about the Amish changing his life in this hilarious new episode!
Topics discussed
Sebastian is broadcasting from his father's basement in Chicago
Celebrity run-in etiquette, including a missed opportunity to meet Tony Bennett
Pete has 4 Amish roofers working on his home.
Sebastian is waiting on the news of whether his pilot will be picked up by NBC.
Information on how the taping of Sebastian's special, "Why would you do that?" went.
Pete talks about writing a letter to the NY Times after Breuer's pilot wasn't picked up.
Manario's: Loading a gun and firing it, confronting the President after he propositioned your wife, acting as referee to a sports game, kick down a door,
Quotes from the episode
Jimmy from Boston: Mean old Jimmy comes along and busts your idol's balls #breathawaybiscuit
Sebastian: My father is now a hoarder. There is shit all over this house.
Pete: Were you in a room with Tom Cruise? Sebastian: That was just an example. Pete: Use a lesser example.
Sebastian: Leah Romy? Leah Remy?
Sebastian: Is this thing even street legal?
Pete: These are your friends? Yeah! What are you gonna do?
Pete: They don't make small talk with each other because they're SO BORING.
Mighty fine house you've got here, sir.
Sebastian: This should be an education on how to run a business.
Sebastian: Get me out on the soccer field with some adidas cleats and some shin guards and I'm a different man.