Episode Details
Release Date
Runtime
1 hour, 10 minutes
Previous Episode
Episode 216
Intro Music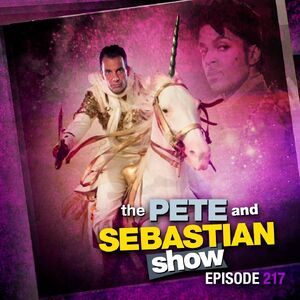 Sebastian tells of the time he me The Purple One! Pete has great stories and he tries not to curse while telling them!
Topics discussed
A moment of silence for Prince, leading into Sebastian's Prince story
Sebastian has a plane story heading to Buffalo
Pete channels a drunk college kid's desire for a Big Mac during Fredoniafest
Sal Vulcano & Joey Fatone came out to Sebastian's Vegas show
Quotes from the episode
Jimmy from Boston: "Enough with this useless hat wearin' young Alyssa Milano-Looking tube of toothpaste!"
Sebastian: "It was as if you could smell what a unicorn smelled like."
Pete: "I would never make out with a man...but I think Prince would have the best chance."
Pete: "Atlanta to Buffalo: loaded with heavy hitters"
Sebastian: "My wife...I think she's turning into me"
Pete: "You're bangin your wife where you mom banged your dad! That's more wacko than stuffin your dog!"
Sebastian: "You wanna bang your wife in the kitchen...This is where my Mommy made pancakes!"