Episode Details
Release Date
Runtime
1 hour, 16 minutes
Previous Episode
Episode 215
Intro Music
While My Guitar Gently Weeps (Cover)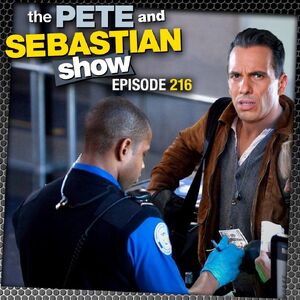 Sebastian does something unheard of to try and get on an airplane and Pete has a lovely encounter with Vannesa Williams!
Topics discussed
It's Pete's birthday and also 4/20!
Watching JJ Watt work out, a discussion of Gold's gym.
Pete loves "The Chew"
How to approach a friend with a bad lifestyle habit
Pete wraps up his Brian Regan experience
Sebastian tries to bribe the TSA
Pete tells a story of tagging along on a Vanessa Williams train
Walking Dead recap with Pete
Pete is wrangling roofing contractors
Quotes from the episode
Jimmy wants some face cookies!
The guy carries himself like a Kennedy!
Is it bouncy to say, 'No, but I'd love to come with a cup of coffee and watch you work out.'
Tannum Chating? Tatum Chatum? Learn your hunks, fellas!
You put on some political talk radio? It enrages me! I get so angry that I lift more weight than if I was listening to Megadeth!
I could probably lift a car if I was listening to Ted Cruz give a speech.
You really crushed it again, Zach!
Everyone should work out. But if you're smoking, doing drugs, cheating on your wife, that's none of my business.
Scorcese's using Bobby Cavanaugh and Ray Romano because he thinks you're not gonna work anymore
We're looking at end of July…ok so probably end of August…right probably October.
So you're doin' it too? But I had a hundred dollar bill in my hand.
I wanted pilot treatment.
Something real black and cool and sexy, but nice.
I was reluctant to have a kid because we have a $19trillion deficit, and this is zombie-less land!
The fantastically talented thespian Lenny James.