Episode Details
Release Date
April 15, 2016
Runtime
1 hour, 21 minutes
Previous Episode
Episode 214
Intro Music
Harry Chapin, "WOLD"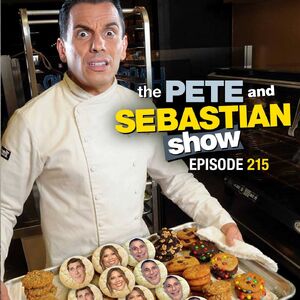 The guys are back!!! Sebastian tells stories of his NBC pilot with Tony Danza and Pete gets everyone riled up on American Airlines!
Topics discussed
Back after a hiatus, but not long enough to finish Sebastian's house project (16 months running)
Sebastian dialed in on the pilot, the hardest thing he as ever done.
Pete has plane stories, but is still a better flyer than his wife
Pete is considering taking down a 100-year old tree on the rental property next door while doing his own tree trimming.
Quotes from the episode
Pete: "I can't believe I just referred to Mconahey as a good actor!"
Sebastian: "Don't you love a big pile of mail in front of you?"
Sebastian: "I'll pop out of a scene and turn to camera."
Pete: "The last thing you need is some yoyo they pulled off the street for the free food telling you how to act"
Pete: "We do the cast-at the salon-$50 on top of the regular cut and you get to listen to the cast live."
Sebastian: "They actually tour with their podcast." Pete: "I can't even get you for an hour!"
Pete: "When you get inside the actor's studio with Lipton you better have a better example than that. Tony knew not to talk over the slammin' door. What a thespian!"
Pete: "What-are you in a band? Enough with the flicking' to the music."
Pete: "You can't get helicopters out here fast enough that I gotta get wet? We're Americans, man!"
Pete: "What are we raising? I'd tell my daughter, swallow that shit!"
Sebastian: "I've got a voice only my wife can hear."
Pete: "I shut the window. Ride's over. Go back to your magazine. Nothin to see here."
Pete: "What grown man needs to fly a toy over the airport?"
Pete: "I don't make a sound and I just give him a glare."
Pete: "Yeah, yeah. Go talk to the wizard! Why doesn't the wizard come out?"
Pete: "Oh, yeah! I got 'em all riled up now! Like a whip, I just smack em in the ass collectively like a team!"
Pete: "Kids are on the floor! Meanwhile the white trash kid was on the floor at 4:30 when we thought we were leaving on time."
Sebastian: "You would have been arrested!"
Pete: "I walk really fast up the aisle, and I lean over and I go, 'A commercial? You're doing a commercial?!'"
Pete: "No bites, huh? No bites?!"
Sebastian: "I would rather throw up in my lap, than say 'Take the headrest off.'"
Sebastian: "One star: wanted to take car apart during the trip"