Episode Details
Release Date
March 18, 2016
Runtime
1 hour, 26 minutes
Previous Episode
Episode 211
Intro Music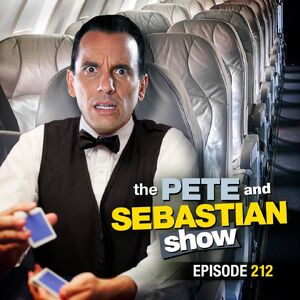 Pete has an amazing reaction to finding a stranger's wallet and Sebastian hangs with Bill Burr!
Topics discussed
Pete takes a midweek break to the Ivy in Toronto with a horse-hair Hästen bed
Pete is not a fan of the cool reception he receives upon re-entry to his native United States, suggests we annex Canada into the US
A discussion of St Patrick's Day traditions
Trump talk
We check in with casting on Sebastian's pilot, his desire to take the cast out for a preshow dinner, friends coming in from out of town for the taping, he reaffirms is commitment to the Pete & Sebastian Show
Sebastian "broke in" with the staff at Madeo, also recommends Michael Voltaggio's Ink.
Despite his objection to drugs, prostitution and murder, Pete thinks he would have thrived in the mafia due to his interests in pasta, smoking and spousal abuse.
Sebastian breaks rice with Bill Burr in a double date over sushi.
Pete tells a story of finding a wallet in Cleveland.
Sebastian tells an anecdote of his brother-in-law's birthday weekend and division of restaurant tabs and a "stale" bill, contrasted with the generous tipping habits of Bill Burr and Brian Regan.
Sebastian endures a 10-shuffle marathon shuffle session on a 7am flight.
Pete's having trouble finding contractors to repair his wind-damaged roof
A woman uses a pen to upgrade herself to Sebastian's first-class seat, causing much anguish until a patient stewardess intervenes
Sebastian gifts DJ Lou 2 tickets to Pearl Jam at Madison Square Garden
Billy Joel plays a private dinner in Naples, Florida
Quotes from the episode
Jimmy in Boston: "You can take a break from choppin down trees, or rippin telephone poles out of the ground..."
Pete: "We're not playing tiddlywinks in that thing…we're gonna have some fun in that horse hair!"
Sebastian: "Maybe even a piece of candy, something to welcome you back into the states!"
Pete: "What are you? My fuckin mother? It's none of your business."
Pete: "I went over there to buy coke and kill dolphins, and I struck out. Alright guy?!"
Sebastian: "How does someone look at a bed go; You know what? Go put some horse hair in it and see what it feels like."
Pete: "I'd kill an animal for a good sleep, don't get me wrong!"
Pete: "I'm half Irish, I'll admit it...It's a white trash holiday!"
Pete: "I'd walk in if I was the boss and go: Great outfit...you're fired!"
Pete: "If I wasn't a comedian, I think I would've thrived in the mob."
Attendant: "That's your good deed for the day." Pete: "Guy-for the day? This covers me for 4 months!"
Pete: "He had the 20s mixed with 5s and 10s...what-did you just get back from a carnival?!"
Pete: "When he said 'is there any way I can thank you?' I so wanted to say, 'Just vote Trump.' We'll be doing this kinda stuff all the time!"
Pete: "I left your wallet at the hyatt, and here's my number in case you wanna call up and say I'm the fuckin' king!"
Pete: "Bro, you're picking up the tab for the rest of your life!"
Sebastian: "Meanwhile I'm sittin' here goin, 'Is anybody gonna pick up the hash browns?'"
Pete: "I hate cards." Sebastian: "I hate cards with such a passion."
DJ Lou: "The last time Pearl Jam played MSG was 2010, and to get in to that show, I had to tell Rosie O'Donnel that I would quit smoking."