Episode Details
Release Date
January 3, 2016
Runtime
59 minutes
Previous Episode
Episode 200
Intro Music
Everlast - "7 Years"
Pete starts to hate his favorite holiday and Sebastian embarrasses himself at a holiday party!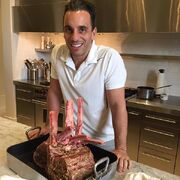 Topics discussed
Christmas recap: Sebastian spills wine, disapproves of women chewing a meat bone, Pete is alienated by his family.
A discussion of whether one should apologize for his wife
Pete goes back to the stereo guy for his money back, leaves with a sob story
There will be an endorsement day for the guys' political candidate of choice
Sebastian's spending New Years at home, Pete is in the Jolly Hotel Madison Towers.
Quotes from the episode
Sebastian: "When someone opens a Mcdonalds bag on the plane, I'm like; did somebody take their socks off?"
Pete: "When I smell that, I just know we have white trash confirmed on the plane."
Sebastian: "What is this? Honest nog?"
Pete: "I don't care if he's been on cocaine for 4 days, get him off my fuckin' couch!"