Episode Details
Release Date
December 23, 2015
Runtime
1 hour, 25 minutes
Previous Episode
Episode 199
Intro Music
Willie Nelson - "Please come home for Christmas"
It's our Christmas Show and our 200th show!!! Lots of surprises in store in this extra special, hilarious episode!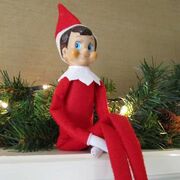 Topics discussed
Pete's ill, and nothing special is planned for show 200.
Lana is also sick, but Sebastian is an unbelievable nurse.
Sebastian is doing cardio-tennis in Naples.
Dr. Ron Desalvo unleashed heavy pain in Sebastian's patella, but don't bother trying to get an appointment.
An in-depth discussion of Elf on the Shelf
Proper gratitude etiquette for children opening gifts
Pete finally buys an HDTV and is amazed by the difference, Sebastian is stunned that is only now he has gone HD.
Sebastian went to see Star Wars with his in-laws, in matching t-shirts.
DJ Lou show-within-a-show celebrating the birthday of Eddie Vedder
Italian take: decomposing out on the lawn, paying a ticket for cursing, where to take a one-night stand, wearing an internal shoe lift
What is Obama doing on Comedians in Cars Getting Coffee?
Quotes from the episode
Pete "How insulting is that? Not only do I beat you, but I jump over the net to say 'How do you like that, bitch?'"
Sebastian: "It's a way to discipline the kid...it's a scam."
Sebastian: "Anytime you get a gift, you act like it's the best thing you've ever seen. And then when the people leave, you say 'this sucks'"
Sebastian: "I was a little iffy about doing the cast today, but now I'm involved!"
Sebastian: "I've never heard anyone say "it's so clear...we gotta take it back!"
Pete: "We don't open your mother-in-law's gifts until Christmas because it's usually nicer than half the shit we get each other."
Sebastian: "This ain't Bangledesh, this is Hollywood, and we don't put dead carcasses out on the lawn."