Episode Details
Release Date
November 14, 2015
Runtime
55 minutes
Previous Episode
Episode 194
Intro Music
Poison - "Talk Dirty to Me"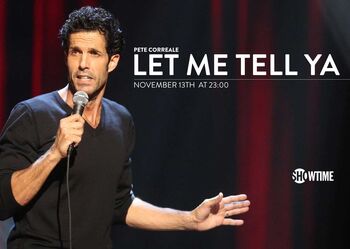 Pete Correale's Showtime Special is tonight at 11pm eastern!!!! And this new show is hilarious as well.
Topics discussed
Sebastian just got done with a good cry after Facetiming with Lana and looking at photos of her with her late father, kicking off a discussion of legacies and watching down from above.
Pete's wife, Jackie's annual exam involves a good looking young doctor and full nudity.
Sebastian's back-home friends visit him in West Palm Beach, offend Sebastian with their aggressive gawking at attractive women.
Sebastian has settled in to a rhythm filming Cruise, has the acting bug.
Sebastian is treated to first-class treatment after his Morgan Stanley corporate gig, including a personal fog attendant.
Pete is at the Royalton Riviera in Cancun being treated to beyond 5-star accommodations, which is almost too much.
A discussion of the healing properties of salt water.
Dom Irrera treats Pete to a sweet sweet hang, discuss doing "classic" material vs new.
Michael Jackson concerts, doobies and encores.
Sebastian is going to a Rangers game on Thursday, watching Pete's Showtime special on Friday.
The aesthetic of Pete's recording room does not impress Sebastian.
Sebastian has to enlighten Lana that men interpret her friendliness as availability.
Quotes from the episode
Pete: "It's nice to say that you need a good cry more than you need a good cumdump."
Pete: "You're laughing? I'm dead...and you're laughing?"
Pete: "That has to be a class in medical school; when a woman gets naked, don't roll your eyes."
Sebastian: "There's a difference between taking a glance at an attractive woman, and having the cops called to the pool because of what you're doing."
Sebastian: "I gotta get this guy at the house!" (Fog guy)
Pete: "So you stared out waist-deep water into the horizon, and then came out and had a Top Gun moment with your buds."
Sebastian: "You don't need any other stimulus other than Michael Jackson. He *is* the drug."
Pete: "The kinda concerts I go to; the lights go off, the lighters go on!" Sebastian: "Oh, God."