Episode Details
Release Date
September 25, 2015
Runtime
1 hour, 14 minutes
Previous Episode
Episode 187
Intro Music
Chris Cornell - "Nothing Compares 2 U"
Sebastian is almost homeless and the guys discuss where to bury their loved ones!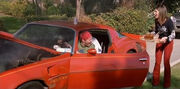 Topics discussed
Sebastian is in a mood resulting from the slow progress of his home renovation (new ETA: May 2016), temporary housing search and the toll it's taking on his relationship
Pete suggests Sebastian purchase a Pied-à-terre
Sebastian notices he is in a pattern of being on the receiving end of financial abuse
Pete and Jackie are in disagreement on Pete's phone apps being out of date
Sebastian recommends the city of Portland clean itself up, plus his strategy for avoiding beggers.
After an initial misstep at their upscale hotel, Sebastian and Lana get the presidential treatment
Pete's Showtime special will air Friday the 13th of November
Sebastian is juicing again
Sebastian's Dad is in Cefalù, Sicily; free of aches and pains and yelling into his Skype conversation with Sebastian.
A discussion of wills, estates and the importance of making one's wishes known ahead of time.
Pete confronts a driver who is revving his engine loudly in the neighborhood
Sebastian will appear on The Fighter and the Kid and Tom Papa's podcast
Quotes from the episode
Sebastian: "I'm basically naked doing the cast."
Pete: "I'm wondering...elevator?"
Sebastian: "I got no underwear on today. I'm freeballin it."
Sebastian: "Google just came back and said 'is this Pete Correale that's saying this?'"
Sebastian: "Pied-à-terre? I turned it into an Italian word." Pete: "Well, that's what you do."
Sebastian: "It looks like burning man, in Portland."
Sebastian: "La settimana ho avuto oggi!"
Pete: "The woman is talking about what she wants done with her body, and you're trying to make a Sunday afternoon out of it?"
Pete: "Like the Stanley cup! Every player gets it for a night! Who's to say the urn ain't mobile?"
Sebastian: "True dat." Pete: "Oh boy you let that slip. What, did you just see Straight Outta Compton?"