Episode Details
Release Date
September 18, 2015
Runtime
54 minutes
Previous Episode
Episode 186
Intro Music
Bruce Springsteen - "Rocky Ground"
Sebastian performs Michael Jackson and Pete has yet another incident on a plane!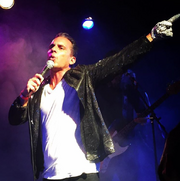 Topics discussed
Sebastian recalls his Michael Jackson performances at the GD Comedy Jam, child's birthday parties
A series of miscommunications and etiquette faux pas unfold via text message between Pete, Sebastian, Lana and JJ Watt
The Flying News with Pete: overly familiar TSA gate checker, ape-like touchscreen pounding requires Pete do a turn around behavior correction
Another stellar Draft Kings sponsor read from the guys
Pete sets the record straight for a fan in need of recognition
Introducing the Pete & Sebastian movie star hall of fame
Sebastian will be appearing on The Fighter & the Kid podcast
Sebastian teases that he has put in an offer on a 6-month apartment lease while his home is completed, Pete expects ambient haze upon unveiling the results
Quotes from the episode
Pete: "That song is so good it made me for the first time not mind a biracial ending to a romantic movie...It expanded my mind!"
Pete: "The way you and Lana are rolling these days I have to ask...is it Michael Jackson's *actual* hat?"
Sebastian: "It's so dramatic, I wish I just had ambient haze following me around during my everyday errands."
Pete: "I gotta give it up to musicians...it took me *twice* to nail it."
Pete: "This is where I take a hard right into bouncyville."
Pete: "These people all want a scooby snack? They don't deserve me right now!"
Sebastian: "Why bother getting a job?" (re: Draft Kings)
Sebastian: "We have put in an offer on an apartment." Pete: "Oh this is insanity."
Jimmy from Boston: "A lot more people are interested in fantasy football than sucking on those candy flavored electric dicks you two were peddling before!"