Episode Details
Release Date
September 10, 2015
Runtime
54 minutes
Previous Episode
Episode 185
Intro Music
The Isley Brothers - "Shout"
The guys play a round of Man-erios!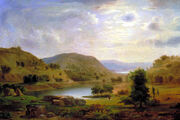 Topics discussed
Sebastian is ready for his house to be completed.
Pete's daughter makes an impromptu appearance.
Sebastian has an epic blowout en route to Napa for Lana's birthday, has to fend off a fellow motorist
Pete enjoyed his spots at the Comedy Cellar alongside Howie Mandell and Artie Lange, not so much the changes in his old NY neighborhood
Manarios: Gratitude toward a man who saved your wife and child asking you to name the child after him, Indian fiance asks you to share milk with the rats at the rat temple.
Absent sponsorships from Creed cologne and Blue Moon, the guys enthusiastically read a sponsorship from Draft Kings.
Sebastian acting news: providing the voice of Johnny the Groundhog in Nutjobs 2
Angela Saviano has passed away.
Pete is in LA this week taping "The Reel", Sebastian will be singing on the Goddamn Comedy Jam despite it's blasphemous title
Quotes from the episode
Sebastian: "It's quite the contrary my dear. When you come up with aggression, you are met with aggression."
Pete: "Somebody get the memo; this is USA, we don't do deals!"
Sebastian: "Please welcome Christiano Maniscalco. A male model walks out."
Sebastian's friend back home: "That's not even one of your words. What? Are you trying to learn?"