Episode Details
Release Date
July 10, 2015
Runtime
1 hour, 14 minutes
Previous Episode
Episode 177
Intro Music
Cyndi Grecco - "Making Our Dreams Come True" (Theme from Laverne & Shirley)
It's Sebastian's birthday and they have stories about getting slapped by a child, Pete taking over his neighborhood, pranking JJ Watt, and many more!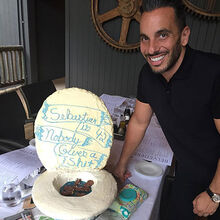 Topics discussed
Pete has birthday trivia for Sebastian, including a Stallone connection
Pete's newsletter is going well, but less so with his medium t-shirt business
"Facts about pissing"
Sebastian is enjoying the mountains of North Carolina but finds the culture of "nine-o-clock midnight" to be a drag
Eavesdropping on a second conversation where the couple is fighting-an analysis
Sebastian is assaulted by a 5-year-old
Pete puts a child in her place while camping
Sebastian's Mom celebrates her 70th birthday
Sebastian grows a beard while in the wilderness, making Pete uncomfortable
Goodfellas-inspired show-within-a-show
Lana and Sebastian's houseguest game confuses NFL superstar JJ Watt
Pete's brother unveils a Disney vacation in spectacular fashion
Hamptons talk
Pete entices Sebastian with "ExLift" - a new app concept
Pete would like to subdivide his neighbor's underutilized property, ahead of his ultimate plans to demolish the neighborhood
Wedding gift etiquette for cheapskates
Pete's considering Periscoping his arguments with Jackie about his white-trash inability to empty his pockets
Quotes from the episode
Sebastian: "Enough with the hittin!"
Pete: "I don't care if it rains only on your tent."
Sebastian: "You'll never see my asshole."
Sebastian: "You actually motorboat the breasts!" (re: Pete's appearance in The Gynecologists)
Sebastian: "On the lid of the toilet, it says 'Sebastian, you're 42, nobody gives a shit.'"
Sebastian: "Why is there ice here - Is that to cool off the piss?"
Pete: "I got Hitler." (Re: Famous people that share your birthday)
Henry the barber: "It's only my second time cutting your hair but I'm falling in love with you!"