Episode Details
Release Date
June 26, 2015
Runtime
1 hour, 17 minutes
Previous Episode
Episode 175
Intro Music
Led Zeppelin - "That's The Way"
Sebastian has the hotel stay of his life and Pete disagrees!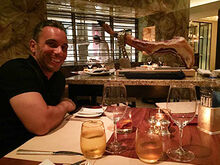 Topics discussed
Pete inadvertently outs the identity of Jimmy from Boston.
Sebastian thoroughly enjoyed his vacation in Cabo, despite a bratty dad and a kid with a mop haircut.
Pete had to physically discipline his daughter for the first time.
Pete's gym also offers an accommodating amenity.
Quantifying a lifetime of overcharges
The guys respond to etiquette questions from listeners; broken golf club, groomsmen's gifts, uneven inheritance to successful sibling.
Quotes from the episode
Pete: "You were wearing...lesbian basketball player shorts."
Pete: "It's like seeing the Snuffleupagus." (re: seeing Jimmy from Boston's photo)
Pete: "I like my blonde hair like I like my bras...on women."
Sebastian: "Please notify your attendant if you would like a wake up call! Whoa! Poolside?!"
Sebastian: "I'd ask the guy, 'how much', he'd say '50 cents' I'd say keep it."
Sebastian: "You shouldn't even be saying the word 'funky socks' after you turn 18."
Sebastian: "If she acts up, just give her a slap alright?"