Episode Details
Release Date
June 19, 2015
Runtime
1 hour, 16 minutes
Previous Episode
Episode 174
Intro Music
Rolling Stones - "Salt of the Earth"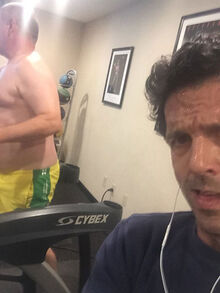 Pete hangs out with DJ Lou and Jimmy From Boston and Sebastian reads an old letter from his agent!
Topics discussed
The guys recap last week's live show & live Robert Kelly "You Know What, Dude?"
Sebastian's juicing again before heading to Cabo.
New York City disappoints the guys
Pete reveals inside-source information about NY Mayor Bill De Blasio
DJ Lou, Jimmy from Boston and Pete get together for a tailgate session at Holiday Inn.
Sebastian reads the letter exchange he had with the "Sebastian's here!" manager.
Pete's preparing himself to spend time with his family in Bethany Beach, backyard camping with his in-laws.
Facetime hangups, live Periscope podcast
Quotes from the episode
Pete: "It's like Tyson reading his own book back." (Re: Sebastian's letter to his manager)
Sebastian: "They're takin' pictures outside the store, FOR WHAT?!" (Re: Dash Boutique)
Pete: "If I sent you a vintage Michael Jackson t-shirt...you wouldn't wear it to the gym?" Sebastian: "I'd wear it to a wedding."