Episode Details
Release Date
April 10, 2015
Runtime
1 hour, 1 minute
Previous Episode
Episode 164
Intro Music
Nina Simone, "I Wish I knew (How It Would Feel To Be Free)"
The guys play a game called "Is This Cheating," and are surprised to learn how young their audience is!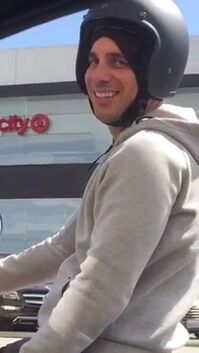 Topics discussed
Sebastian is coming fresh off a $225 massage
Pete is digging in to home improvement projects since "getting snipped", despite lukewarm compliments from family
Pete's Easter houseguests lose their keys, a discussion of appropriate etiquette.
The bathtub story is revisited.
An excerpt from the Undisputed Truth, the Mike Tyson Story.
A discussion of a man you commits suicide after losing his free buffet pass
"Is this cheating?"
Sebastian recommends the salted caramel at Carmela on Third & Fairfax.
A discussion of kissing family/children on the lips
Clips from the show are being used in a college course as specimens of dialect
Pete is preparing for his Showtime special, sans bullet points
Eddie Lobenhaufer reaches out to Sebastian after being name checked in Episode 161
Quotes from the episode
Sebastian: "I don't burden people. I'm not a burden."
Sebastian: "I don't want to come down in the morning and see you, possibly barefoot, with shorts on making a cup of coffee. I don't wanna see that."
Sebastian: "I don't ever remember seein' my Dad's dick!"
Sebastian: "This is an adult show. This ain't Sesame Street, guy."
Sebastian: "As soon as you take your clothes off in front of me, our friendship's over."